DEMYSTIFYING INKJET PRINTING

Inkjet Printing Technologies

Inkjet Media

Refilling Ink

Scanning & Printing Tips




What is Ink Jet Printing ?

INK JET PRINTING IS AN INTEGRATED SYSTEM

IMAGE + PRINTER + INK + MEDIA

CRITICAL ELEMENTS:

- Image/Source needs to be OPTIMIZED

- Printers must effectively control the placement of the media, and disbursement of the ink.

- Ink must provide a cost effective, vivid & reliable presentation.

- Media must minimally compliment or enhance the ink's presentation of the image.

INKJET PRINTING TECHNOLOGIES

3 Basic Inkjet Printing Technologies

- Continuous Flow

- Thermal (Bubble Jet)

- Piezo Electric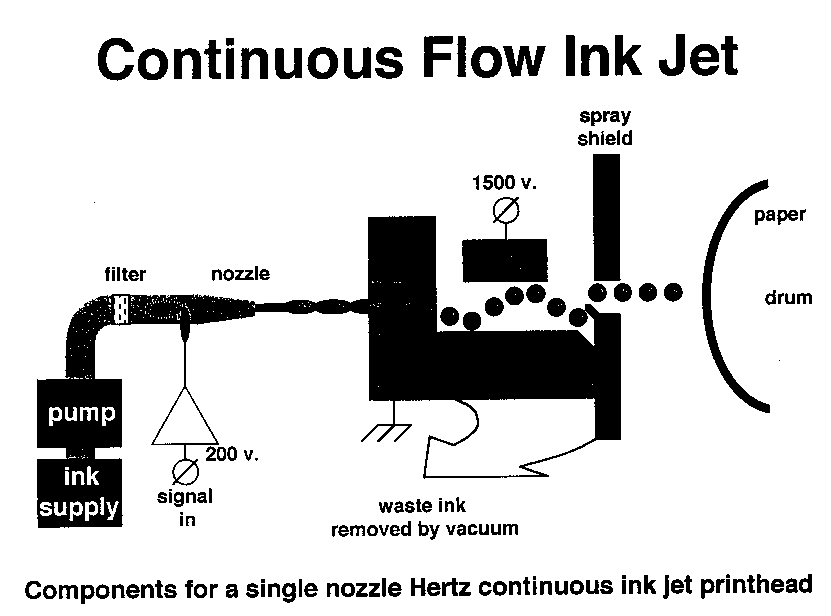 - High System Cost, typical of large scale plotters

- Complex Ink System requiring maintenance

- Multiple Dedicated print heads

- Best suited for graphic arts and industrial applications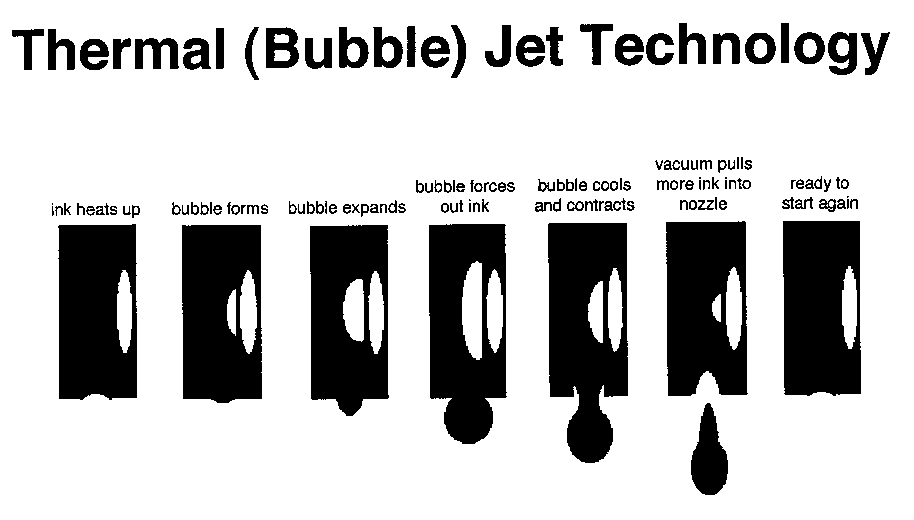 - Drop-On-Demand System
- Voltage pulses applied to a heater which gassifies
- Force of the bubble foreces ink to jet out
- Most popular technology
Examples:
Canon Bubblejets
HP Deskjet, ThinkJet, Design Jet
Lexmark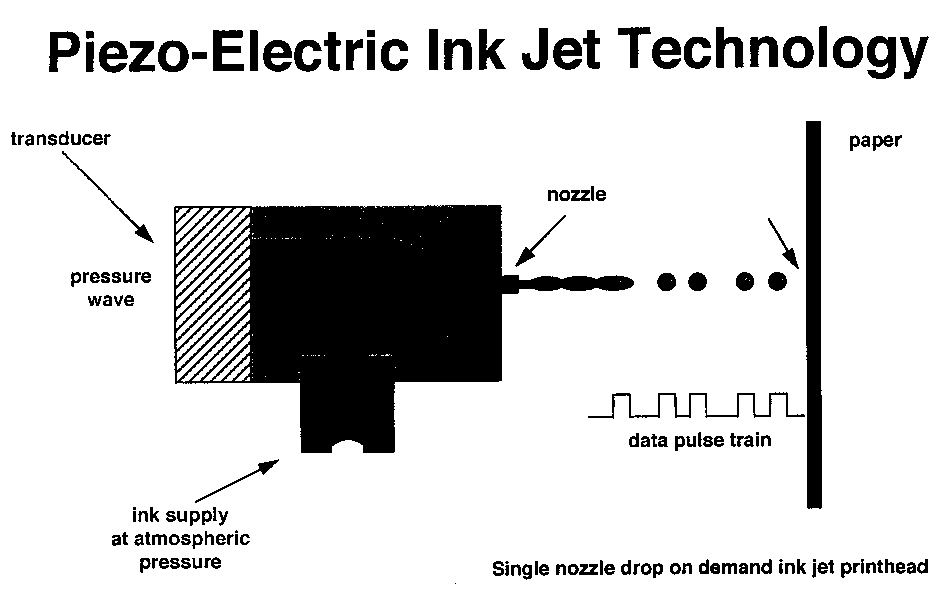 - Drops are produced by a transducer

- Droplets are subsequently distorted relative to the data charge

- Yields small drop sizes/high resolutions

- Open orifice requires careful control of ink drying characteristics

Examples

Epson Color Stylus & Photo Series

Some Industrial plotters

INK Jet Media

COATING REQUIREMENTS

and PROCESSES

MEDIA TYPES

and APPLICATIONS

COATING REQUIREMENTS

- Limit and control dot size and shape

- Hold colorant on surface, control the absorption

rate. (Store the carrier until medium has evaporated.)

- Provide brilliant and neutral reflective background

- Prevent "curling"

- Provide various textures, and appearance

A HIGH QUALITY PRODUCT WILL HAVE:

- Barrier coating (prevents saturation)

- Reflective coating

- Sealer coating

- Texture/Finish coating

- Gloss coating

MEDIA TYPES

- COATED BOND PAPERS, (various weights, finishes)

A wide array is available from low end "thrifty" paper to "photo quality".

ALL inkjet paper is coated on BOTH sides Brightness ranges from 80 to 94+

Opacity is extremely important

- GLOSSY PAPERS,

Bond paper used as a substrate, various thickness

and glossy finishes applied. (Usually premium)

Whiteness is not always the best measure

Consistency sometimes a concern

- GLOSSY FILMS

Synthetic materials (polyester based)

Durability is greater than Glossy Paper

Much thinner, usually more expensive

- SPECIALTY FILMS

Transfer Paper, Backlight, Silver, Gold,

Transparency, UV Reactive Transfer

- TEXTURED MEDIA

Canvas, Silk, Linen, etc.

MEDIA APPLICATIONS

· COATED BOND PAPERS

COATED INK JET PAPER, 20 - 24 lb

- Inexpensive trial prints for more expensive

materials

- Reports, Correspondence, Graphic

ULTRA RESOLUTION, 27lb

- Relatively inexpensive

- Photographic quality bond provides a

"matte" finish, with "true" color presentation.

- Heavier paper, accommodates dense and high resolution, (greater ink volume)

- May be framed

- Reports, Correspondence, Graphic

· GLOSSY PRODUCTS

PHOTO GLOSSY

- Photo paper achieves "snapshot" thickness, and glossy finish.

- Primary applications are photographic, and signage

DOUBLE SIDED WEATHERPROOF

- Glossy one side, matte the other

- Water Resistant

(AVAILABLE SOON !!)

OPAQUE GLOSSY FILM

- Much thinner, greater durability!

- Excellent photo material !

- Creates very unique business cards, calendars, craft activities

· SPECIALTY FILMS

TRANSFER PAPER (actually film)

- Extremely popular !

- Transfer is accommodated via a

dye-sublimination process

- No longer required to remove backing

while it is hot !

- Can be applied to most porous surfaces

(cloth, some wood)

- Ultra-Violet Reactive is available !

(Changes color in sun light)

TRANSPARENCY FILM

- Special surface to hold the ink

- Printed w/mirror image makes great signs

- Pre-attached fly sheet

SILVER REFLECTIVE FILM

- Excellent special affects;

- Black & White Photos

- Applications include marketing, certificates, crafts, business cards

WINDOW DECAL

- Clear film with an adhesive backing

- Ideal for decorations, decals, bumper stickers, labels, etc.

BACK LIGHT FILM

- UV and Water Resistant film, developed for light boxes

- Applications include; signs, badges, displays

· FABRIC and TEXTURES

WATER COLOR

- Provides artistic texture

- May be painted as well as printed

- Ideal for photos, greeting cards & crafts

CANVAS

- Actual prestretched canvas

- Great for portraits, and oil painting effects

POLY SILK

- Polyester Silk with adhesive backing

- Applications include numerous craft projects; stickers, doll house wall paper, lamp shade appliqués, wedding book, notebook covers, etc.

COMING ATTRACTIONS

:

- Glow-In-The-Dark-Paper

- Magnetic Backed Photo

- Weatherproof media

CARTRIDGES and INK

- Alternative quality inks and cartridges ARE available !

ALL INKS ARE NOT EQUAL !!

- Be cautious of "1 Ink for Any Printer"

(Refill kits)

- Dye-based vs. Pigment-based

Dye based afford a larger range of colors

Less stable than pigment

(Most inkjet ink)

- Pigment ink is waterproof, better for photocopy

Longer dry time

(Some HP Black)

REFILLING CARTRIDGES

- Printer warranty will not be affected

- Have confidence in your source

- EXTREMELY COST EFFECTIVE !!

OEM cartridge cost typically $18 - $32 up

After market cartridge cost $ 8 - $25 up

Refill Cost (per cartridge) $ 2 - $ 4

- Some cases After Market cartridges better than

OEM for refilling

- Minimal learning curve required

- Refill same cartridge typically 4 - 5 times

Printing Tips

UNDERSTAND YOUR PRINTER DRIVER

- Media selection will alter the volume of ink released

+ - Plain Paper, relatively high due to the absorbency of media

- Inkjet Paper, nominal amount utilizing the resolution desired.

- Photo Paper, less than inkjet paper due to gloss coatings

- - Transparency/Film, least amount

- SELECTING THE HIGHEST RESOLUTION WILL NOT AFFORD THE GREATEST IMAGE

- Solvent based "fixatives" will increase the durability of your images and reduce water impacts.

SCANNING

Scan Modes

- OCR, (Optical Character Recognition)

Text, Documents

- Line Art, Images made of solid black lines no shading

- Color/Photo

Determining Scanning Resolution

OCR - Scan at highest resolution your system will support

Line Art - Use the same resolution you are going to print at, if the image is not being resized.

Resizing the image:

Increasing the size - double the ptr resolution

Decreasing the size - half the ptr resolution

Photos/Art - Scan at a maximum of 1/3 the printer resolution, up to a maximum of about 300 dpi. (Print at 720 dpi, scan at 240 or less)

Scanning at higher resolutions will produce HUGE files, but not necessarily better results.

As resolution doubles, file size quadruples,

Scanning a 4" x 4" color picture

150 dpi file size is approx. 1 MB

600 dpi file size is greater than 16 MB

Then.....

Using a 600 dpi ptr both images print identically

High Resolution images.....

... take more hard drive space

... longer to print

... drive used as virtual memory

... longer for image data transfer, & display

FILE TYPES

Not all save file formats are accessible with every image type. For example, some file formats do not support 24-bit color and may be grayed out in the file format list of your scanner.

Lossless formats - When file is opened the image is identical to the originial file.

Lossy formats - Image losses some detail when you save it.

GIF -

(CompuServ Bitmap) This palette color file format uses lossless compression and is often used on the Internet.

JPG - (

Joint Photographic Experts Group Bitmap) Supports high-compression ratios but is a lossy file format. Do not save in JPG mode until all image editing is done. Use JPG for any file you use online, either e-mail, web sites.

PCX -

(PC Paintbrush) Supports only grayscale and palette color images, works with many older programs.

TIF -

(Tag Image Format) Most universally accepted, about 1/2 the size of BMP, supports black and white, grayscale, palettecolor, and RGB. Use TIF for any image you plan to print.

TGA -

(Targa Format) Saves color information files (often with the image mask).

BMP -

(Windows Bitmap Format) Standard Windows file.

Large file size limited detail.

ALTERNATIVES

- Photo CD's and Floppys

- Photo e-mail

- Fax

- Digital Cameras

- VCR's

Frequently asked questions . . . . .

Q. Why is the color printed different than what is displayed ?

A. Monitors & Scanners use RGB - additive colors, Printers use CMYK - subtractive colors.

(Some colors display on monitor are not printable and vise versa).

If colors scanned are too dark on monitor adj. gamma setting on monitor, if screen good, & print poor, contact ptr mfg for a Color Mgmt Sys profile for your ptr.

SELECTING A SCANNER ....

- Flatbed scanners are the most versatile

- Maximize optical resolution (not interpolated)

eg: 600 dpi (H) x 1200 dpi (V)

9600 dpi x 9600 dpi (s/w interpolation)

- Scan area size

- Color Capability:

36 bit 68.7 billion colors

24 bit 16.7 billion colors

12 bit 4096 shades of gray

8 bit 256 shades of gray

- Features (negatives, slides, 3-D)

- Bundled Software

- Interface, System Requirements

Parallel vs SCSI

- Protocol - TWAIN

(Technology without an Interesting Name)

SELECTING A PRINTER ....

- Determine your printing needs...

Primary text or graphics ?

Speed or Initial Cost ?

Media Requirements ? (Size)

Cost of Operation ?

Cost of Ownership......
PRINTER

INITIAL

$

MFG'R

CART $

GENERIC

CART $

REFILL

CART $

Lexmark

<100

$21-$30

N/A

$3-$4

Canon

100-200

$21-$30

$4-$20

$3-$4

Epson

125-500

$21-$30

$8 - $15

$3-$4

HP

175-500

$21-$30

N/A

$3-$4
MAINTAINING YOUR PRINTER

Clean your printer regularly !! (Cartridge change)

Coated paper will leave a residue in the paper path.

Invest in a dust cover !

Terminology

Basic Size -

The standard size for a grade of paper, used to determine its basis weight. (e.g. Bond 17x22).

Basis Weight - The weight of a ream of paper in the Basic Size for that grade (e.g. 500 sheets of Sub. 20 Bond paper in its basic size, 17x22 in., would weigh 20lb).

Brightness - The measurement of a paper's light-reflective qualities that affect contrast and halftone reproduction.

Caliper - the thickness of a sheet, or stack of sheets of paper as expressed in thousandths of an inch (mils); also referred to as Bulk.

Opacity - The ability of paper to inhibit show-through of material printed on its other side or from sheet to sheet. Usually, the lower the basis weight, the less opacity.