The President's Message
June 2003
by Tony Butka
Well, the waiting is over - Kim Cheung of Serenity Systems gave a definitive demonstration of the new eComStation 1.1, and had plenty of copies of the software available for sale. As a tribute to the solidity of the new release, I think he sold almost all the software that he brought to an enthusiastic membership.
Kim hit on the major bane of our favorite operating system - what happens when the consumer goes to a place like Fry's, or Dell, or HP, or Gateway, or even Big Blue IBM themselves, and buys a new computer, portable, or peripheral? Well, the chances are good that you won't be able to install OS/2 Warp4, as more and more vendors are shipping what they proudly bill as "non-legacy" systems. This usually means that there is no floppy drive (and no floppy emulation), no PCMCIA slot if a portable, often no PS/2 connectors, no serial ports, and instead lots of USB1 and 2 ports with (maybe) a Firewire port. As Kim demonstrated to the group using the original IBM Warp 4 CDs, the result can be the dreadful "unable to operate your hard drive" message. With that error message, you couldn't install Warp 4 on the system even if you wanted to. There is also the problem with modern manufacturing, that your nice peripheral may have any of a number of different chipsets in it based on whatever was cheap when that batch of the device was made.
After about a year of serious work, welcome to eCS 1.1, with its very nice CD based install.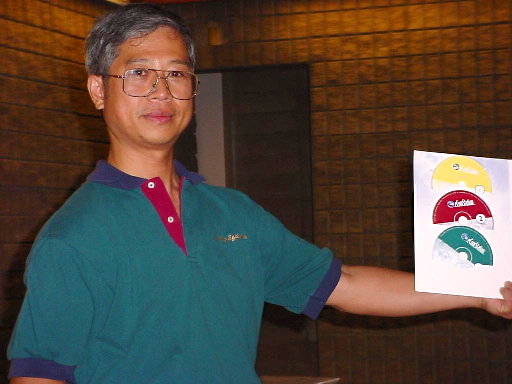 Kim Cheung with the eCS 1.1 CD set issued by Mensys
The demo went flawlessly, and Serenity believes that about 90% plus of installations should be trouble free. A very nice touch I noticed is that the boot process goes to a 'Mini-LVM' screen that avoids all the confusion of the LVM setup menu and simply prompts you for a partition to install to.

Installation Volume Manager
Also, during the pre-boot process, you are auto-detected for SCSI drivers, USB, and Network cards (NIC's). You can access drop-down lists to confirm or change the suggestions. On CD2 there is a FAQ including error numbers, as well as how to use log files in the unlikely event of a problem.
On the portable front, Kim indicated that IBM's T series should be OK, the inexpensive A series may or may not be, and Sony's portables seem to be OK (although there might not be drivers for all of the built-in gadgets on some models). I was pleasantly surprised to see a read only NTFS.ifs file system included with the software, and indications are that work is currently being done to see about making the driver robust enough for write as well as read access to NTFS partitions.
Kim gave a couple of tips for USB devices, which seem to be well supported under eCS 1.1. First, if you are using a removable device such as a CD Burner, it is a good idea to use the software 'eject' function in your drive object instead of simply pressing the eject button on the device. Second, if your device has one of those all-in-one adapter plugs that comes with it, first plug the adapter into the device and then plug the device into your computers USB port. During the demo, Kim demonstrated a number of devices, including a test of yours truly's trusty Epson C-80 printer via the USB port. All went amazingly well.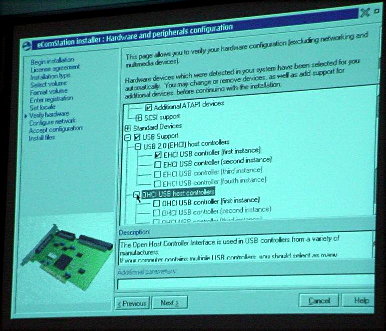 USB support options during installation
There are, of course, a couple of areas that are in flux. USB scanner support is still hit or miss, and you should check the supported devices list before assuming that your $50 Fry's special will work. Same for USB Network cards. For further USB support issues, give OS2World a whirl.
Back to the demo, a nice touch is that under your eCS folder, there is a docs subdirectory where virtually all of the documentation is available in one place. The area of audio is also a little tricky, and to help you there are both 16-bit (should work with most cards) and 32-bit audio drivers on CD2. From personal experience, I do know that the AC '97 on-board sound that comes with most VIA motherboards should work.
We were also given a teaser that wireless support is on the way, but as we speak it is not yet released by IBM.
OK, so what's the bottom line? Well, over half of the 40 or so participants at the meeting were sufficiently impressed to buy on the spot. Oh yeah, that would include me. The installer is seriously improved over anything else I've seen for OS/2, and I would guess that it should work just fine with the exception of some SCSI setups (this is true for NT as well, by the way), or the odd combination of unusual device drivers that are bound to crop up. And having USB support is a nice way of getting around some of the device driver issues, particularly on portable computers.
Hopefully someone will do a full product review soon, but based on the club demo, Serenity Systems has a winner with eComStation 1.1.
See you next month, and if you have suggestions or comments, email me at tony@scoug.com.
---
The Southern California OS/2 User Group
P.O. Box 26904
Santa Ana, CA 92799-6904, USA
Copyright 2003 the Southern California OS/2 User Group. ALL RIGHTS RESERVED.
SCOUG, Warp Expo West, and Warpfest are trademarks of the Southern California OS/2 User Group. OS/2, Workplace Shell, and IBM are registered trademarks of International Business Machines Corporation. All other trademarks remain the property of their respective owners.