General Meeting in April 2003
Guiffy
What a Difference a Year Makes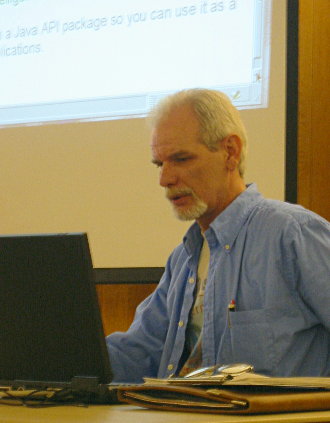 You remember Guiffy (pronounced "goofy"). It is a powerful multi-platform utility for visually comparing and merging source files, folders, and even file trees. Developers find it indispensible for managing software development. Others find it useful for simpler tasks like comparing and merging text files.
We first saw what a versatile development tool it is at our meeting in February 2002. This month we had lead developer Bill Ritcher of Guiffy Software back to show how he's updated the software. It is an impressive list of improvements:
version 4.0 - March '02:

Ignore Regular Expressions
Ignore Blank Lines
Ignore options - Compare and/or Merge
Ignore File Types - Folder Compares
Smarter SureMerge
Java 1.4.0 Support (OOOOOOOPS). But, 25% faster, FileTrees 2X faster, and RemoteX 10X+ faster

version 4.2 - May '02:

Performance Improvements
Clickable Scroll Meters
Char-by-Char inline diffs

version 4.5 - July '02:

ComparEdit
MergEdit and da Flipper
Gutter shading

version 4.6 - September '02:

Folder Compare options
CVS integrations
Merge Checkpoint / Resume

version 4.7 - November '02:

TreeView multiple selects
MacOSX MenuBar and Shortcuts
File Swaps
Singular Compares

version 5.0 - March '03:

Quick Shift - file compare from folder compare
Multi-File dialogs
Wrapn ToolBars
Config. folder
Find enhancements
OpenVMS Support
MacOSX launcher
It's no wonder that Guiffy gets the top rating by Tucows for Windows, Mac, and Linux (OS/2 applications aren't rated there). In fact, it is the first product to garner the highest Tucows rating for all three operating systems at the same time.
---
SCOUG president Tony Butka was inspired by the presentation as he explains in his President's Message for May 2003.
Thanks to Dave Watson for the photo from the meeting.
---
The Southern California OS/2 User Group
P.O. Box 26904
Santa Ana, CA 92799-6904, USA
Copyright 2003 the Southern California OS/2 User Group. ALL RIGHTS RESERVED.
SCOUG, Warp Expo West, and Warpfest are trademarks of the Southern California OS/2 User Group. OS/2, Workplace Shell, and IBM are registered trademarks of International Business Machines Corporation. All other trademarks remain the property of their respective owners.