SCOUG OS/2 For You - May 1999
---
As faithful readers will know, I and a lot of other folks have been sort of frustrated with what seems to be a lack of standardization for SCSI Twain device drivers for OS/2. CFM and STI are the two major players, but readers have reported various problems with both. STI has a beta going for their drivers, and CFM periodically does updates but is not noted for communicating with their users. So for now, where are we?
Well, once again...
freeware to the rescue!
PMSANE is a program that I have mentioned off and on; in its earlier versions it was difficult to install, and the drivers were pretty buggy. Now comes an integrated version 0.50 (freeware people are honest about their versions) where all of the necessary runtime files, drivers, and front-end are contained in a single 1.5 Mb zip file called PMSAN050.ZIP, file dated 2/17/99. Download it from the archives at the OS/2 SuperSite ( http://www.os2ss.com).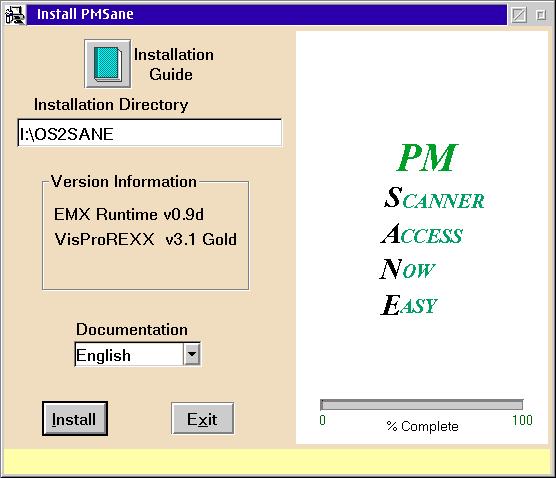 Unzip the file to a temporary directory and run INSTALL.EXE (this time I double checked the file name). That's it -- the installation program loads, lets you choose a directory, and installs everything including the graphic interface, as well as modifying your config.sys file. Just reboot and you're ready to go!
What's really neat is that the program is a port of a Linux/UNIX program, just like Ghostview, the other freeware program I have been so enthusiastic about. Hats off to Stan Irish and all the other programmers who so kindly devote their time and effort at no cost to the rest of us. In fact, if you think about it, a person could do a very inexpensive Warp system using mostly freeware for a lot of graphics stuff -- the Enhanced Editor for word processing, PMSANE for scanning, and Ghostview for creating and editing pdf and eps files. Hmm, maybe the kernel of another column...
Anyhow, the documentation indicates that this software should work with the following scanners:
HP ScanJet IIcx, IIp, 3C,4C
HP 6100,
HP Scanjet 3P, 4P, 5P
Photosmart (mabye)
Microtek ScanMaker E2,E3,E6
Microtek ScanMaker II, IIG, IIHR, III
Microtek ScanMaker 600GS,600ZS
Microtek ScanMaker 630
Mustek MFC 600S, 600CD, 800S
MFS-6000CX, SP, 8000SP
MFS-1200SP, 12000CX
Epson 5000, 9000 series
NOTE: just because your scanner isn't listed doesn't mean that it won't work with this software. My scanner, an Epson Expression 636 (aka GT-9500) was automatically detected and runs just fine, even tho' the documentation doesn't mention it. This is freeware, where typically what you don't get is documentation and support. What you do get is a surprisingly nice, stable setup for those combinations that will run. For the latest information, go to the SANE web site:
http://www.mostang.com/sane
where they are constantly updating supported scanners.
OK, now on to the program itself.
It installs to an OS2SANE subdirectory on your system, and creates a folder with an icon for the program, a reasonably complete installation guide, and a user guide (both inf files).
Opening the program should display your scanner model, automatically. A configuration screen lets you choose your default viewer (I use PMView), the working directory, and the resolution to do a preview scan (defaults to 50 dpi).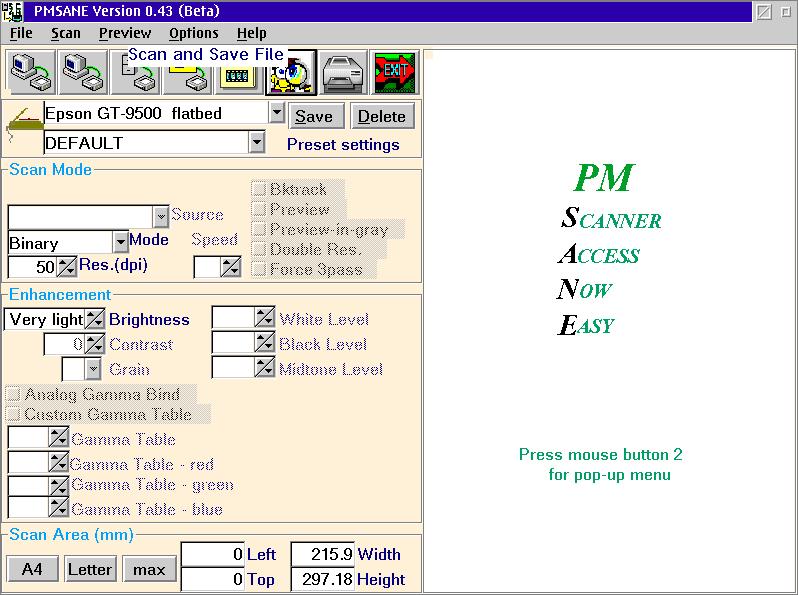 A couple of tips. On my system, the default mode was 'binary'. Changing to 'color' worked fine. Also, I would get an error message with the default enhancement of 'very light', while the 'darker' setting worked fine. Also, when choosing a custom scanning size, like for a photograph, the system uses millimeters, not inches (remember, everyone else in the world uses the metric system). Just use a rough 1"=25mm and all should be well.
When you're ready, right click and up comes a choice list -- you can scan to your viewer (my recommendation), scan/save, scan to a folder, or do a preview scan.
I took a 4x6" color photo of my daughter & a friend, scanned at 300 dpi to PMView, which came up with the image, and saved the file as an uncompressed tif file (about 6.5 Mb). It printed just fine.
PMSANE is highly recommmended. And let me know how this works with your scanner! Write to Tony@SCOUG.com
You might want to read last month's Ink.
---
By day, Tony Butka is a bureaucrat for Los Angeles County. In his other life he lives in a loft surrounded by computers, printers, and a host of vinyl records.
---
The Southern California OS/2 User Group
P.O. Box 26904
Santa Ana, CA 92799-6904, USA
Copyright 1999 the Southern California OS/2 User Group. ALL RIGHTS RESERVED.
SCOUG, Warp Expo West, and Warpfest are trademarks of the Southern California OS/2 User Group.
OS/2, Workplace Shell, and IBM are registered trademarks of International Business Machines Corporation.
All other trademarks remain the property of their respective owners.